Welcome to your Humanitarian Essential Pathway. In this pathway, you will be introduced to the building blocks of humanitarian work, and explore some of the global aspirations of the sector and the challenges humanitarian workers face. Humanitarian agencies and individuals around the world are committed to achieving the best quality in their work with crisis-affected people; if you are interested in starting a career in the sector this course will help you explore what that means and give you a foundation of understanding of the key aspects of humanitarian aid programmes and the values and principles that underpin them.
About the Pathway
Humanitarian programmes are deployed all over the world in disaster situations, and it's vital that those who work in this sector have the right skills and knowledge to work ethically, safely and professionally wherever they are working. This Learning Pathway has been created in partnership with international humanitarian organisations and sector experts to provide you with high quality and sector-relevant learning. The Academy has created this Pathway particularly for professionals just starting, or hoping to start their career in the humanitarian sector. As you work your way through the Pathway you will learn about the Core Humanitarian Competency Framework (CHCF), an international set of competencies for humanitarian workers, and explore their relevance to your work and future career. This Pathway combines key topics chosen by sector experts, sector-relevant learning outcomes and an introduction to the Core Humanitarian Competency Framework.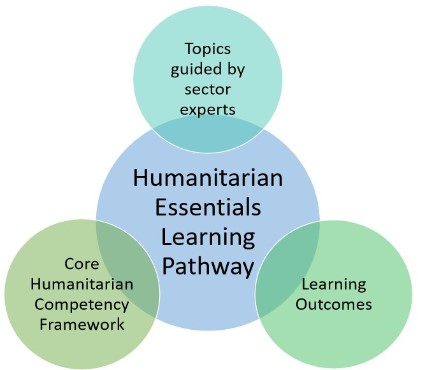 Overview
In this Pathway you will work through 7 key aspects of humanitarian aid, and gain a basic understanding of the elements involved. Each of these modules has been mapped against the Core Humanitarian Competency Framework so that you can continuously track your progress and personal development against globally recognised sector competencies.

Each module is made up of required content that will provide you with key learning, and additional materials that can develop your learning further and cover more of the Core Humanitarian Competency Framework. All the content is online to allow you the flexibility to break up the programme into manageable study sessions to suit you. Your progress through each module is tracked so you can return to your learning at any time and pick up where you left off.
You can choose to complete only those modules that are most useful to you, or complete the whole Pathway and take the Humanitarian Essentials Pathway test to gain a certificate and open badge as evidence of your learning.
By completing this Pathway you will be able to:
o Describe and apply humanitarian principles and standards
o Identify the major actors in humanitarian response
o Describe the main components of the international humanitarian architecture
o Identify relevant bodies of international law
o Explain how international law underpins humanitarian action
o Explain the importance of applying an age, gender and diversity sensitive approach in all phases of humanitarian response
o Apply precautionary and preparative actions to address security risks
o Communicate clearly with affected populations
o Remain accountable to affected populations
o Apply practical techniques to manage personal wellbeing