Across the humanitarian sector the success of response rely upon the ever increasing need of a skilled workforce. Managers within this response are under increased pressures with the growing number of natural and man-made disasters causing an incremental need for a professional response from the sector.

In this course you will be exploring some of the core elements of being an effective leader and good manager in humanitarian response. The course is designed as a training package for in-country, new managers in humanitarian response. But it potentially has wider appeal; as a refresher for existing humanitarian managers and as a taster for those contemplating stepping up to management in humanitarian response.
This course includes activities that focus on the practical development of essential knowledge and skills as well as their application. It is three weeks long, with each week addressing different competencies required of new humanitarian managers;
• Week 1 Stepping up to management,• Week 2 Managing others• Week 3 Managing humanitarian response.
Each week requires roughly four hours of study. In the first week you will start with what management is and the skills needed to do it. Then in the second week the focus will be on building and maintaining a team: making sure you've got the right people in place with the right skills and experience to deliver for your organisation and crisis affected people. The third and final week will be about operationalising management in humanitarian response.
It is not expected that you will study each week in one go, although you can, but we suggest you break it up into manageable study sessions to suit you. A diagram setting out the structure of the module is shown below.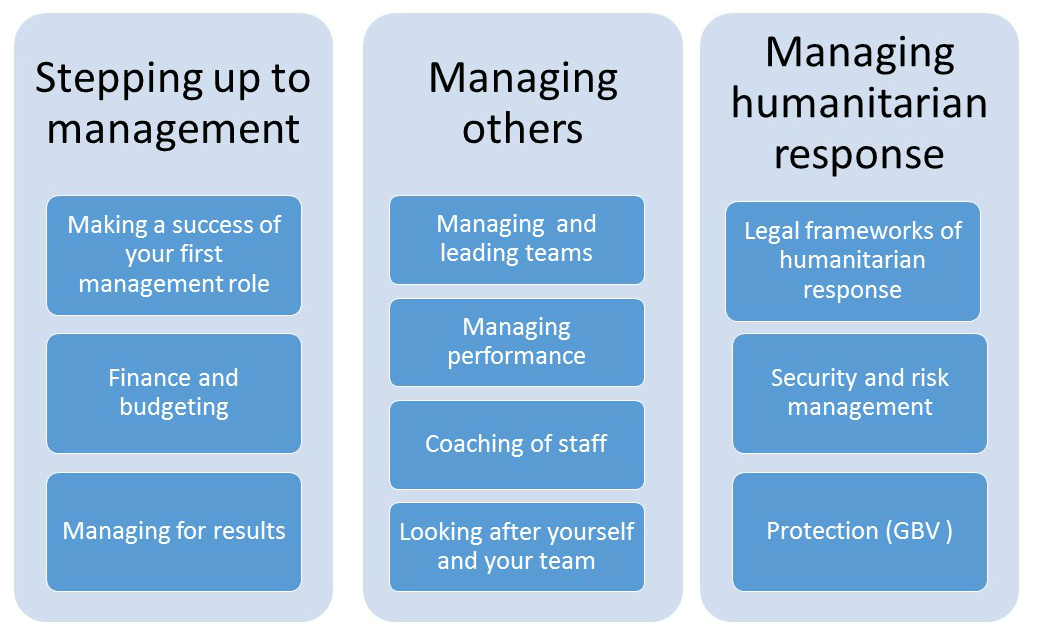 We will be asking you to bring and share your own experiences of leading and managing. You may already be managing other people, or want to be in that position someday, or you may just want to know a bit more about how humanitarian organisations work.
A special feature of this course is that it is designed and delivered exclusively through on-line materials produced by, and for, the humanitarian sector. This gives you a real window into what goes on in a humanitarian emergency, in particular the challenges new managers face and the compressed timescale within which they have to make life-saving decisions.
If you wish to document your completion of this module, you can take the end of module assessment. Passing the module will give you a personalised certificate which can be added to your CV or used as evidence of informal or formal Continuing Professional Development (CPD).
Course photo: 'Unloading DfID Aid' by Julien Harneis CC-BY-SA

PHAP Credentialing Program: Understanding the Humanitarian Ecosystem, International Legal Frameworks
This course will help you prepare for the PHAP Credentialing Program certifications in Understanding the Humanitarian Ecosystem and International Legal Frameworks for Humanitarian Action.
In particular, the course addresses some aspects of segments 2.1 and 3.1 of the International Legal Frameworks outline and some aspects of segments 3.4 and 4.2 Understanding the Humanitarian Ecosystem outline.

Read more about the PHAP Credentialing Program